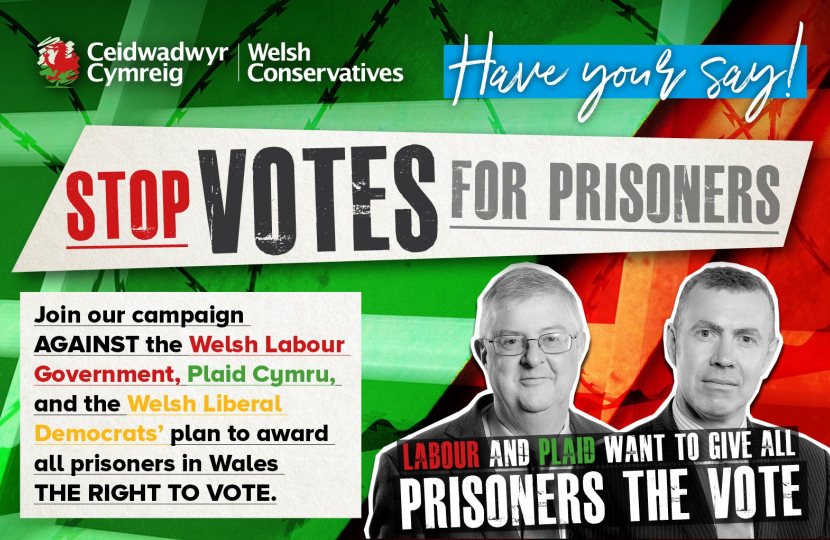 The Welsh Labour Government, Plaid Cymru, and the Welsh Liberal Democrats voted in favour of giving the right to vote for ALL prisoners in Wales.
The vote was taken in the National Assembly for Wales in January 2019 and has set Wales on a path towards giving prisoners – which include murderers, rapists, terrorists, and paedophiles – the right to elect AMs and councillors.
The Welsh Conservatives are warning that this is the beginning of Labour First Minister Mark Drakeford's plan to use Wales to test Jeremy Corbyn's policies. Corbyn has said on several occasions that he thinks that all offenders should be able to vote.
This short survey gives YOU the opportunity to give us your opinion on the matter, which the Welsh Conservatives will use to express the opinions of voters to the Welsh Government.
WHY THE WELSH CONSERVATIVES ARE AGAINST GIVING ALL PRISONERS THE VOTE:
· The last Welsh Labour, Plaid Cymru, and Welsh Liberal Democrat Assembly manifestos DID NOT mention giving prisoners the vote
· We believe the decision ignores the experiences and trauma of the victims of crime
· Polling shows that the proposal is widely unpopular in Wales and across the UK
Stop Votes for Prisoners